HO HO HO, it's Christmas in… MAY?!
*This post contains affiliate links. Please see Privacy Policy for full disclosure.

Okay, well it's not..but it is..kind of. Because at the end of this blog post, you'll have the chance to win a pair of warm, soft pajamas featured from the movie National Lampoons Christmas Vacation.
The sun may be shining now, but those of you in 4 seasoned areas know that cold weather is never trailing far behind.
I know, I'm sorry for the reminder.
But hey , wouldn't it be great to already have a nice, snuggly pair of pajamas ready for when it does rear it's ugly head again? hehe.
Folks, once again I've partnered with my friends over at UglyChristmasSweater.com to bring you this awesome giveaway, so I really hope you'll enjoy it!
Like many, I cannot count the amount of times I have watched Christmas Vacation, it's a darn near national treasure if I do say so.
Somehow however, I still could not figure out at what part these cool jammies show up.
Chalk it up to a lack of attention to detail (let's hope not) or maybe because I am super distracted at the hilarity of it all.
Anyhoo – a little googling helps and come to find out, they make their appearance at one of my most favorite parts of the movie!…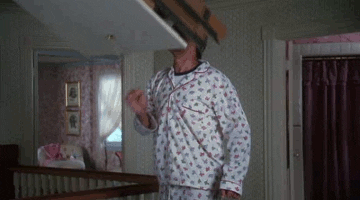 Did you remember?
These cool prop jammies are officially licensed, 100% (super soft textured) polyester and wrapped in vibrant colored dinos! Rawr 🦖

Can't wait for the giveaway?
Grab yourself a pair of these warm, fuzzy jams HERE!
Of course don't stop there, Ugly Christmas Sweater has so many neat items to offer and especially for those who love that retro, throwback feel. Plus, you'll get FREE SHIPPING for orders over $60!
If you're still in a National Lampoons "mood", why check out this cool "ugly christmas sweater" review from last year.
I had so much fun donning my light up sweater throughout the holiday season! UglyChristmasSweater.com has so many Ugly Christmas Sweaters to choose from!
Alright, so onto the giveaway!
Easy peasy, just follow the simple steps below and you're well on your way for the chance to WIN!!
Good luck, friends!!
Rules
🇺🇸 Giveaway open to US Residents, 18+
Giveaway runs from May 6th to May 20th, 2019 at 11:59pm
📺 Follow Ugly Christmas Sweater around the Web
Facebook: https://www.facebook.com/UglyXmas
Instagram: https://www.instagram.com/ugly.christmas
Shop Online: uglychristmassweater.com
Twitter: https://twitter.com/UglyXsweater